If your turning job includes the need for large thru-hole turning of bar stock or tubing, Bardons & Oliver has the solution. Our tough, 2-axis big-bore turning machines are domestically built with attention to quality, precision and durability for long-lasting, heavy-duty production. Your large thru-hole job is completed in one fully automated operation to increase production efficiency, reduce waste and save time.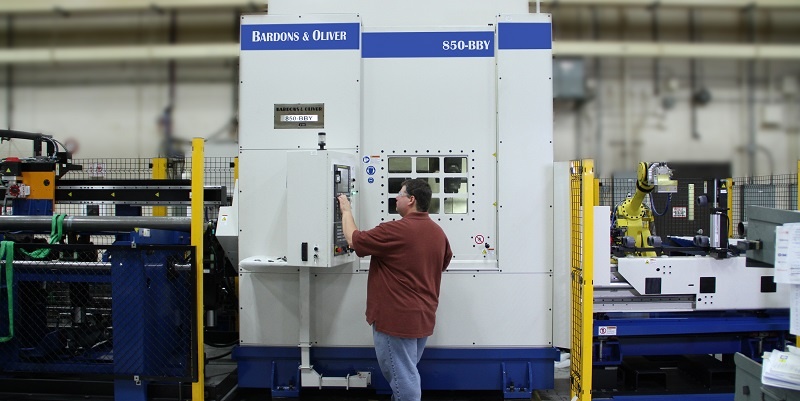 The advanced spindle design sets these machines apart from the competition. Powered by high horsepower AC 40-, 54- or 80-HP spindle drives, the 2-axis big-bore turning machines operate using the highest spindle speeds in the industry—up to 3,000 RPM. The advanced engineering includes angular contact ball bearings, polymer composite housing construction, protective closure systems and maintenance-free bearing lubrication.
The 2-axis big-bore turning machines:
Handle bar and tube applications from 1" to 12" in diameter
Can take raw material up to 40' long and produce finished parts
Produce finished part lengths from 0.125"-wide discs to 24' long tubes and bars
Have 3", 5", 6.5", 8" or 12" thru-hole capacities
Are available with both 12- and 15-station turrets with 4 or 6 optional stations of live tooling
Are controlled by GE-FANUC 32i-Series CNC control digital AC servo drive systems
Are constructed on heavy-duty cast iron machine bases with 2" x 4" hardened steel box ways
Offer maximum thermal stability and vibration damping
Automatic loading and unloading capabilities further increase production efficiencies. The bar and tube loading systems include automatic magazine loading capable of handling incoming material up to 40 feet long. The part unload and remnant removal systems unload finished parts up to 10, 15, 22 and 32 feet long.