Your investment in machinery is large. You count on your equipment to last. And today, as machine tool technology continues to advance, the need for durable quality remains the same.


Since 1891, Bardons & Oliver has designed and built quality lathes and set industry standards for reliability, dependability and rugged performance. Our machines are heavier and offer greater flexibility in automatic part loading, unloading and tooling than any other cutoff machines on the market today. They are USA built.

We create custom engineered solutions for your unique applications—and our skilled employee-owners are dedicated to total customer satisfaction. We've designed special machine configurations, including two machines arranged face-to-face for machining of boiler tubes—to a single machine designed to cut off, burnish and face motor housings. Each application required unique part machining and handling.
Automatic Cutoff Lathes for Tube and Bar Stock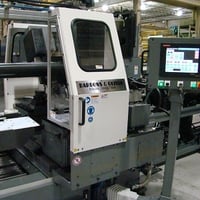 For more the 100 years, Bardons & Oliver has produced auto cutoff lathes (ACLs) for tube processing and bar processing into finished or semi-finished parts. Along with cutoff, our ACLs can perform end finishing work such as chamfer, form and groove with servo-controlled slides. With capacities from 0.5" to 8", the #32, #34 and #36 ACLs produce typical parts, including axles, drive shafts, bushings, pins and spacers. Secondary processes can be integrated for increased product capability. Heavy-duty construction, quality and expertise with automatic part loading and unloading make Bardons & Oliver tube & bar cutting lathes the best solution to maximize your parts-making capabilities. Our cutoff lathes offer:
Automatic cut part support and discharge from tool area
Multiple operations performed in one setup
Maximum productivity
Pipe and Tube Mill Work, Rotating Cutoff Lathes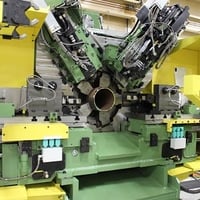 Since 1920, Bardons & Oliver has engineered and built work rotating cutoff lathes for pipe and tube mills worldwide. Our collet capacities through the spindle range from 8" to 24". Special attachments allow cutoff and end-finishing in one operation to fulfill all the production requirements for the manufacture of line pipe, casing, tubing and couplings. Known for our heavy bases, rugged machine construction and durable material handling, a Bardons & Oliver cutoff system assures you years of dependable service even in the most severe and demanding operating conditions.
Fast forward to today, and our innovative engineering and close attention to quality have kept pace with the pipe and tube industry's need for efficiency and throughput. Servo-controlled tool adjustment and chucks with range adjustment and automatic tool change show that Bardons & Oliver has unparalleled expertise in the design, manufacture and operation of rotating cutoff equipment.
Plus, our 100,000-square-foot modern manufacturing facility enables in-house design, machining and assembly of all equipment. Using the latest flexible manufacturing techniques, including multipallet shuttle machining centers, automatic tool changers and an ISO 9001 certified quality control system (featuring precision verification by CMM in an environmentally controlled atmosphere) assures unmatched precision part and machine quality.