Whether you need solutions for thin- or heavy-wall automatic tube processing, our RH High-Production Series meets the challenge. These rotating head cutoff machines give you repeatability with lathe-like tolerances.
The RH-700HP can produce precision-cut, heavy-wall blanks in a strict Cpk environment requiring a length tolerance down to +/-0.005 inch. A precision blank produced by our RH-700HP generates less raw material loss than a sawed blank. Less material waste can result in thousands of dollars in savings per year.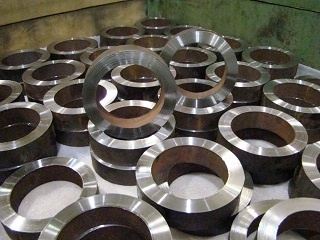 Length tolerance control and parallelism means less material lost during downstream finishing operations. The RH-700 HP also:
Achieves 45–50 sq.in./min. or more on high-production heavy-wall automatic tube cutting
Uses up to four cutting tools simultaneously
Controls process times by providing constant feed rate with load monitoring
Minimizes non-cut time by tailoring material handling equipment to the process
Can include central lubricating to deliver positive lubricant to critical machine elements
Has an optional mist and flood coolant systems to significantly increase tool life, improve surface finishes on finished workpiece faces and increase potential cutting tool feed rates
The RH-450HP rotating head cutoff machine is capable of processing burr-free cuts in seconds.
By utilizing a pinch roll feed drive system, full-length incoming tubes move quickly and efficiently through the tube loader once the part is cut. Faster material handling means more parts per hour. If tube end finishing is required, optional secondary chamfering or deburring equipment is available.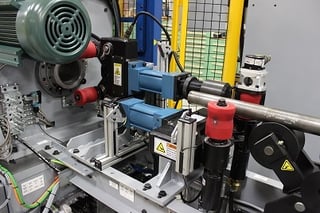 With capabilities of cutting tubes as thin as 0.028" wall thickness, the RH-450HP tube cutoff lathe can process tubes for a wide variety of applications.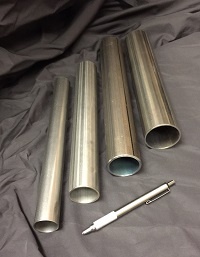 Fast cycle times incorporated with automatic part loading and unloading systems provide the ultimate efficiency. The RH-450 HP also:
Has an optional mist coolant system to significantly increase tool life and improve cut surface finishes
Provides custom interface screens to give the operator complete process control
Utilizes non-mar scratch technology to eliminate material deformation
Integrates automatic buck type loading systems for isolating bundle break area
Uses up to four cutting tools simultaneously
Has an optional mist coolant system to significantly increase tool life and improve cut surface finishes