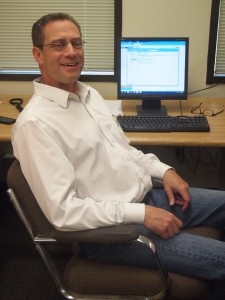 Cedric Ridgeway, Bardons & Oliver's Quality Control Manager, ensures that our product meets or exceeds our customers' standards.
Q: How long have you been in quality control? Where did you get your start?
A: I officially started my career in quality in 1999, when I was promoted to Quality Manager. I had years of experience in machining, inspection, and CNC programming, but no training in quality disciplines. My first project as quality manager was to work with the entire staff to develop a formal quality management system and achieve ISO 9000 certification of that system. With the help of others within the company and an outside consultant, we were certified. During that time I received quite an education in systems, processes, and documentation. An ASQ course in quality engineering was very helpful. Much of what I needed to know came from my shop training and experience.
Q: How long have you been with Bardons & Oliver?
A: In May 1988 I started at B&O as an apprentice machinist. Prior to that I had worked in a couple of different machine shops over a 3 or 4 year period.
Q: What do you like about working for Bardons & Oliver?
A: I sometimes like to call us "the manufacturers of manufacturing", and could go on about this forever. Without companies like us, the world we live in could not exist. Imagine life without cars, trucks, trains, planes, phones, fuel production, plumbing, electricity, mining equipment, etc. Modern society owes its very existence to machine tool manufacturers and their technically-skilled workers.
Q: What advice would you give to someone who was considering quality control as a career?
A: Quality is all about meeting requirements and expectations. Therefore, watch, listen, learn, and seek to understand. Take an analytical viewpoint. You must know what your customer wants before you can produce and deliver. I would encourage development of strong language skills. Good math skills are also important due to the application of statistical tools in quality. Quality positions in manufacturing may also require strong geometry and trigonometry skills since machine and component geometry requirements are usually very specific for products.
Q: What would you like current or potential customers to know about Bardons & Oliver? What makes B&O different?
A: We at Bardons & Oliver are committed to the success of our customers. Their success is our success. Realize that together we are shaping the future of the world.
Q: When you're not on the job, what's your favorite leisure activity?
A: Everyone who knows me knows that I love music, and, blues music above all others. I was fortunate that when I was going to elementary school in Cleveland, music was part of the regular curriculum. I loved it when the music teacher would come to the classroom and play the piano while we sang. In the 4th grade I was able to take up the clarinet and learned other wind instruments in later years. Today I spend hours each week playing the harmonica and performing with a blues band on weekends at various venues around northeast Ohio. After quality, perhaps another career is on the horizon!