When you need the precision of a CNC turning machine, choose an engineered solution from Bardons & Oliver. The product line includes 2-axis and 4-axis CNC turning machines for the precision and repeatability your application requires.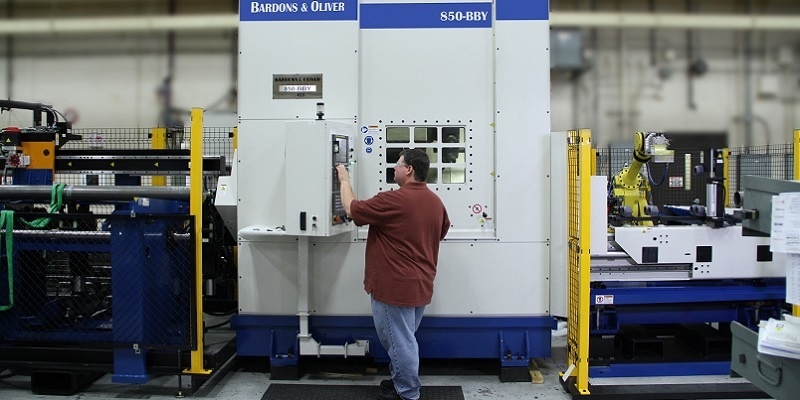 Our ISO 9001:2008 Design certified, USA-made line includes:
2-axis big-bore lathes that can handle bar and tube applications from 1" thru 12" in diameter using advanced spindle system designs for the highest spindle speeds for the largest thru-hole capacities in the Machine Tool industry


2-axis heavy-duty chuckers that use a unique column design for true 12-station interference-free tooling for rugged cutting applications on large chucker-style parts


Hydraulic Cylinder Systems include piston rod machines that convert full-length chrome plated steel bars into finished hydraulic cylinder piston rods and cylinder tube machines that convert full-length 1026-DOM steel tubing into finished hydraulic cylinder tubes in one fully-automatic operation


Pipe Threading Systems driven by an 80-HP spindle and heavy-duty twin turrets for 4-axis capability will handle your most challenging mill applications; this durable system will provide 20 years of reliable service


Conveyor Roller Systems will provide unmatched efficiency for your process by combining our RH Flex machine to cut off and bore your conveyor roller bodies and our sub-spindle machine to finish machine your conveyor shafts
For greater efficiency on most Bardons & Oliver CNC turning machines, we design and implement loading and unloading systems, engineered to your exact requirements. As a certified FANUC robotics system integrator we similarly offer a full range of robotic and industrial automation solutions. Our CNC turning machines include the latest technology, making operations easier and faster with less material waste.
While a standard CNC turning machine may meet your needs, our engineers will work with you to review your production needs and specifications. We can make recommendations for improvements that help your production process and finished products. If additional equipment features are beneficial, we'll discuss your options.